Already during my undergraduate studies, I got involved in civil society and organized European political education events for pupils and students at the Young European Movement Berlin-Brandenburg e.V. Even today, I see myself in a broader sense as a "public historian" who, in addition to his academic work, also participates in current social debates and gets involved as a moderator, discussion participant/expert, or organizer of cultural events. Currently, I am particularly active in balkaNet e.V. – a Munich forum for culture, art, and science from and about Southeast Europe.
---
2023
BR radioWissen: Staudämme – Mauern für das Wasser – broadcasted on November 23, 2023 [Expert interview]
Klima echt gerecht. Wie gelingt eine breite Beteiligung auf dem Weg zu Münchens Klimaneutralität 2035? – Discussion as part of the Klimaherbst with members of the Munich Climate Council, representatives of several migrant organizations and interested citizens in the Munich City Museum, October 30, 2023. [Impulse lecture: Environmental and climate justice. A short history of two closely intertwined concepts and 5 impulses for our urban society)
Klima. Gerecht. Machen. – A participatory project on climate justice for young people with a migration background. Organized by Mikado UMdieWELT & Green City e.V., June 20, 2023 [Speaker for the workshop session: Introduction to the concepts & history of environmental justice & climate justice]
2022
Event Series: Greening the Balkans. The Fight for Environmental Justice in Southeastern Europe
In recent years, strong environmental protests have formed in many countries in the Western Balkans. They are directed against increasing air pollution, the construction of hydroelectric power plants, open landfills, industrial contamination, or nature-destroying mining. One example is the protests against the lithium mines planned by Rio Tinto, which saw thousands of people take to the streets across Serbia at the end of 2021. In discussions with environmental activists from the Balkans, we want to learn more about the background of these protests and initiatives and bring them into conversation with activists from the Munich environmental and climate justice movements. What are their goals, what are their chances of success, and what role does the topic of ecology play in strengthening the young democracies in the region?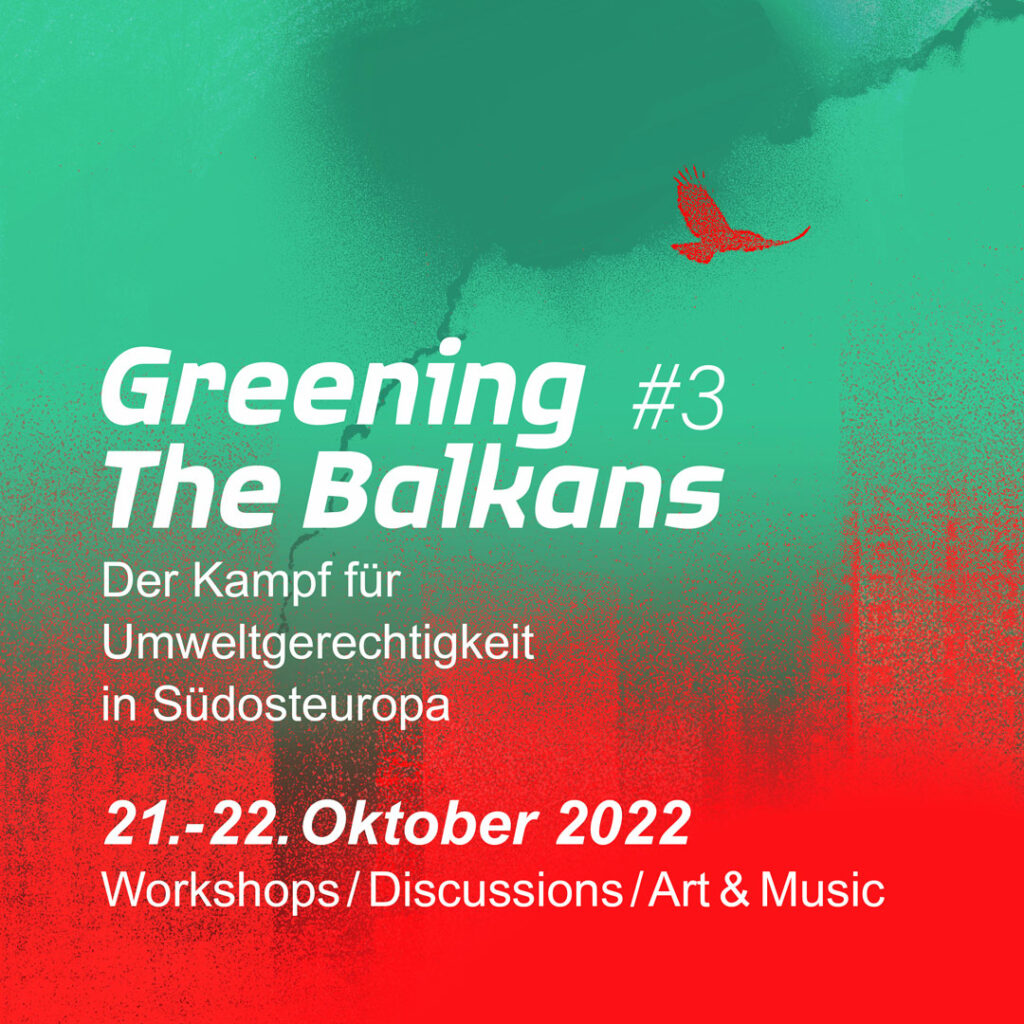 Greening the Balkans # 3 – 21/22 October 2022 (Topic: Networking Event for Environmental (Justice) Activists from the Balkans & Munich; Performance Art, & Dialogue with Urban Society) [Organization, Workshop Coordination & Moderation]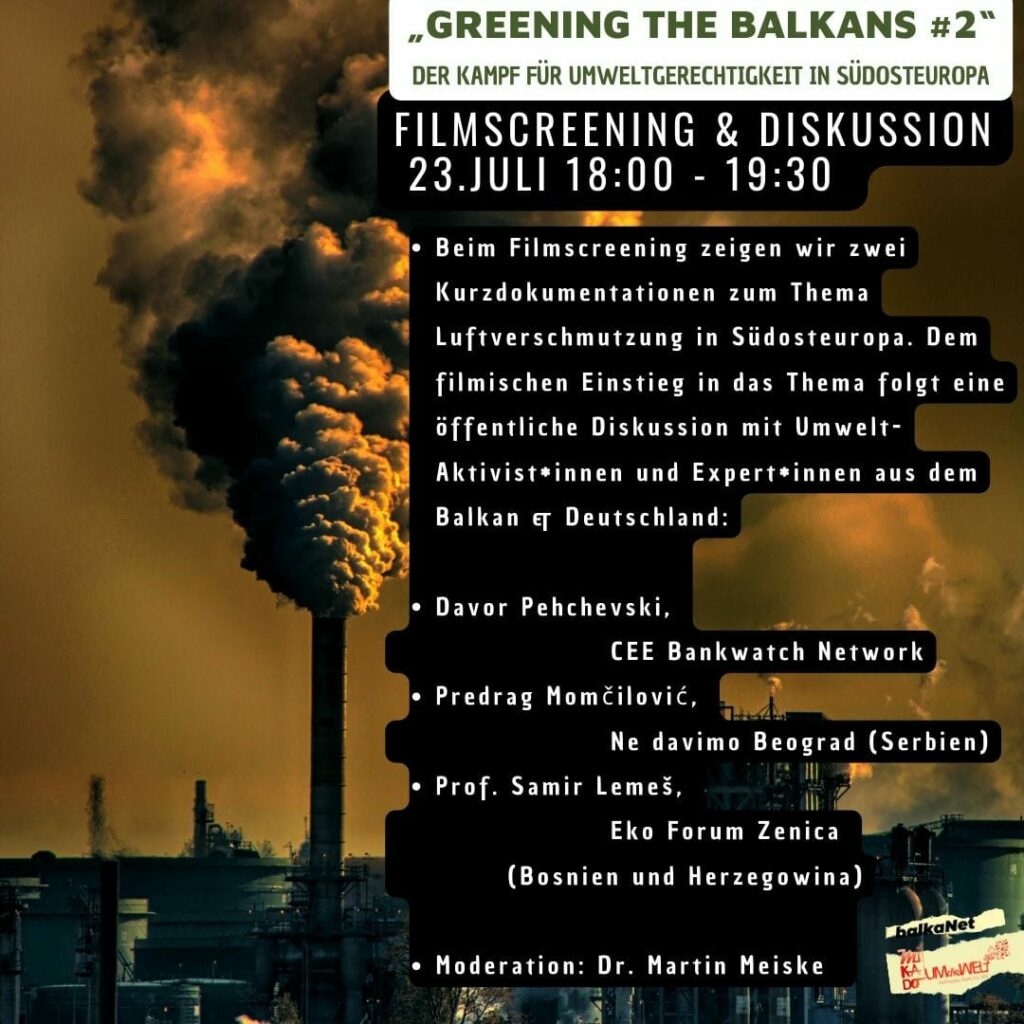 Greening the Balkans #2 – 23 July 2022 (Topic: Air Pollution) – Air Particle Sensor Workshop + Film Screening & Discussion [Organization, Workshop Coordination & Moderation]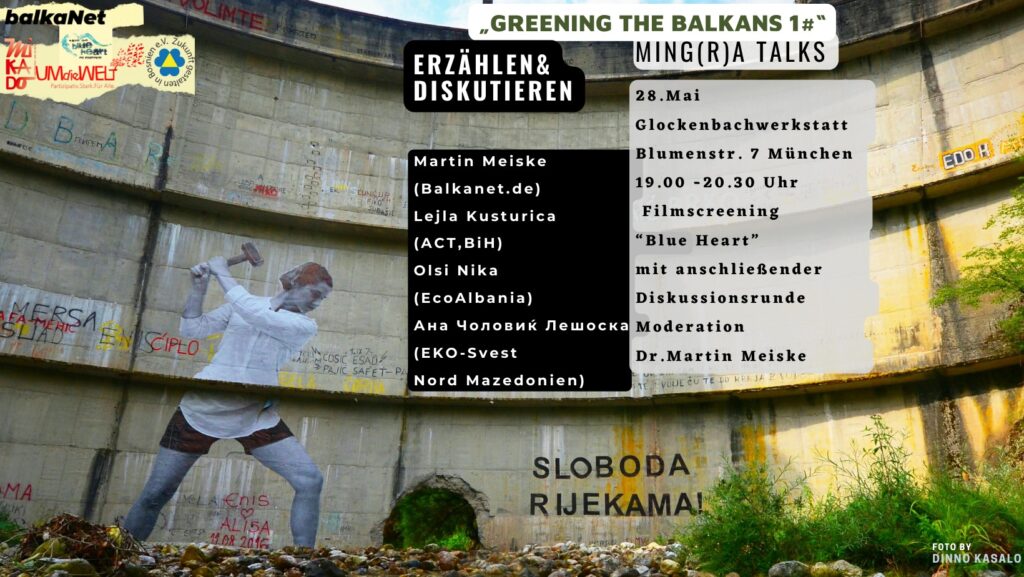 Greening the Balkans #1 – 28 May 2022 (Topic: Rivers & Hydropower) – Film Screening & Discussion [Organization & Moderation]
2020
Green Visions – "Toxic Beauty", Film Screening & Discussion, 17 December 2020, [Moderation]
Green Visions – "Erde", Film Screening & Discussion, 14 May 2020, [Expert] (canceled due to Covid19)
2019
Müchner Klimaherbst – "Auto adé" & "Der wahre Preis der Elektroautos", Film Screening & Discussion, 14 October 2019 [Moderation]
Müchner Klimaherbst – "Biking Boom: Das Fahrrad als Lebensstil" & "Protestkultur auf Rädern" – Film Screening & Discussion, 21 October 2019 [Moderation]
DOK.fest – "Anthropocene – The Human Epoch", Film Screening & Discussion, 9 May 2019 [Expert]
2017
Umwelt-Referat der TUM – "Water Makes Money", Film Screening & Discussion, 17 May 2017 [Moderation, together with Saskia Brill (RCC)]
2008-2016
Junge Europäische Bewegung Berlin-Brandenburg e.V. (JEB; now JEF BB)
Member (2008-2016); President (2011), Vice-President (2010), Board Member (2009-2011) of the regional section of a European-wide youth organization that engaged in European political education and international cultural exchange
In 2013 JEB was awarded the European Citizens' Prize, amongst others, for its longtime organization of SIMEP – a Simulation of the European Parliament
Europa Union Berlin e.V. – Member (2008-2016); coopted Board Member (2010-2011)